The Hologram Dashboard allows users to add email addresses to the billing section to share your account's billing emails. This feature is particularly helpful for users who need to send billing emails to a purchasing or accounting department.
Sharing credit card receipts
We send billing notification emails for credit card receipts to your organization's Owner, and to any other email addresses you choose.
To share credit card billing emails go to the Account page in the Billing section of the main menu.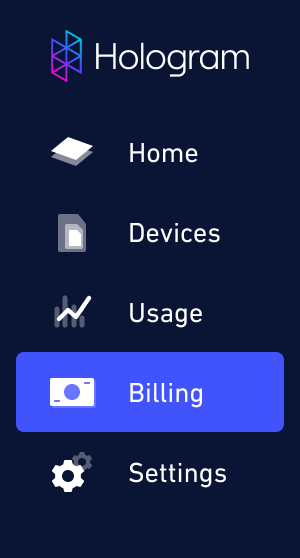 Scroll down to the Billing notifications card where you can add the email addresses of any additional recipients. To add multiple emails, separate them with a comma.

Sharing invoices
If you receive invoices from Hologram and need to send invoices to a specific email address, you can change who receives invoice emails in your linked Stripe account. Invoices are sent through your Stripe account, and will be sent to the email addresses you specify in Stripe. Your Stripe account is created with the same email address as the Owner of your Hologram organization.
Note: Learn more about if you qualify for monthly invoicing by contacting our sales team.