Activating SIMs is easy with Hologram. This guide will walk through the SIM activation process that you can use for all Hologram SIMs including standard, industrial grade, and eSIMs. This guide is focused on helping a first time user activate their first SIM card in the Hologram Dashboard. If you would like to activate SIMs using the REST API, please refer to this guide.
If you have already activated at least one SIM in your account, you also have the ability to bulk activate SIM cards. An outline of that process can be found in this support article.
If you haven't already, create a Hologram account to manage your devices and billing.
Activating your first SIMs
If you are a first time user and received your first SIM card(s), you can activate your SIM cards in the first screen you see in your dashboard. On the right-hand side of the screen, select the Activate a Hologram SIM card to start a guided process that will help you activate your SIMs onto a data plan, choose data usage limit preferences, and activate those devices.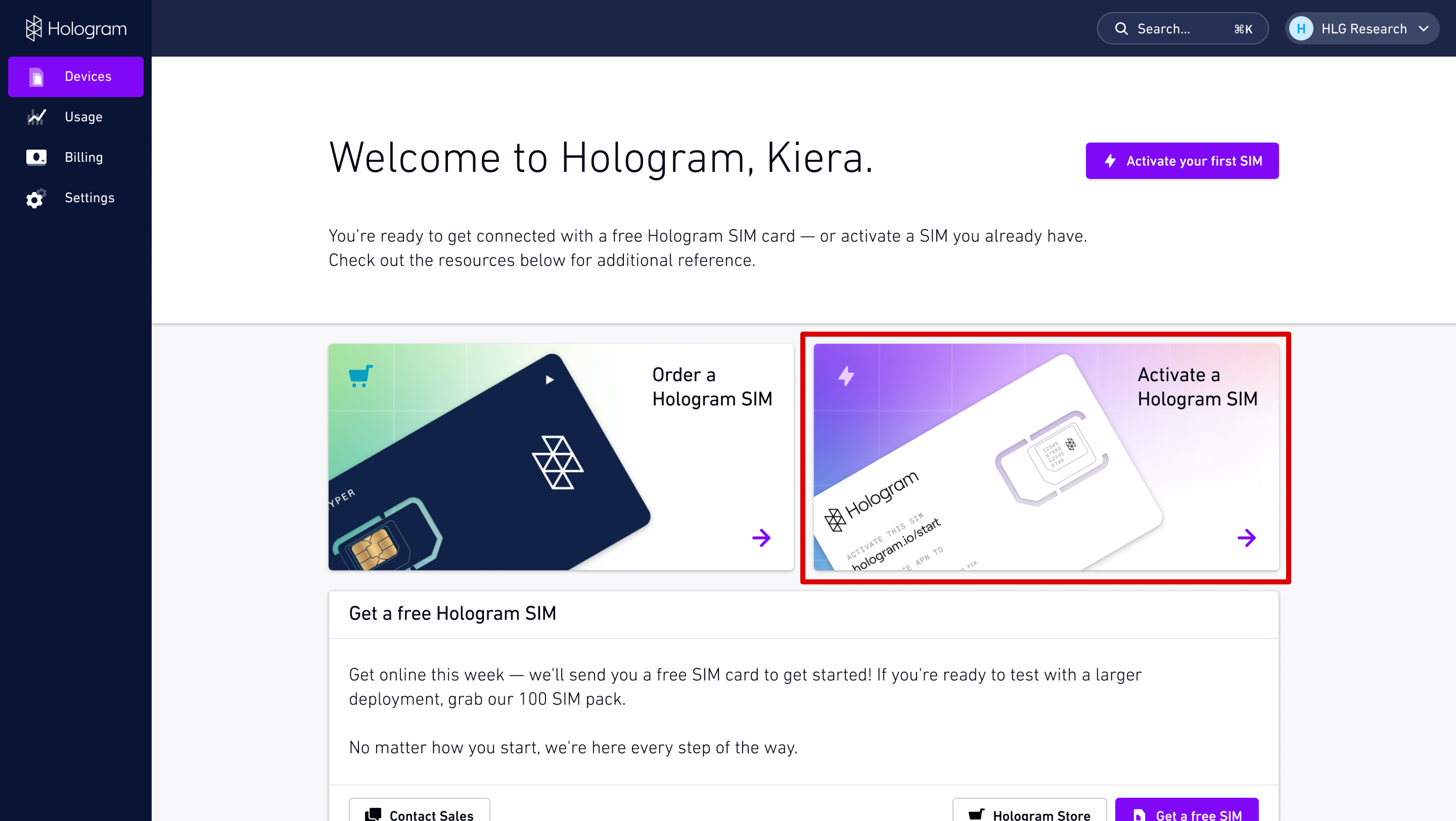 SIM selection
First, enter the ICCIDs — sometimes referred to as SIM numbers — of the SIMs you want to activate. Enter an ICCID by typing or copy/paste. You can add multiple ICCIDs separated by a comma, space, or line break.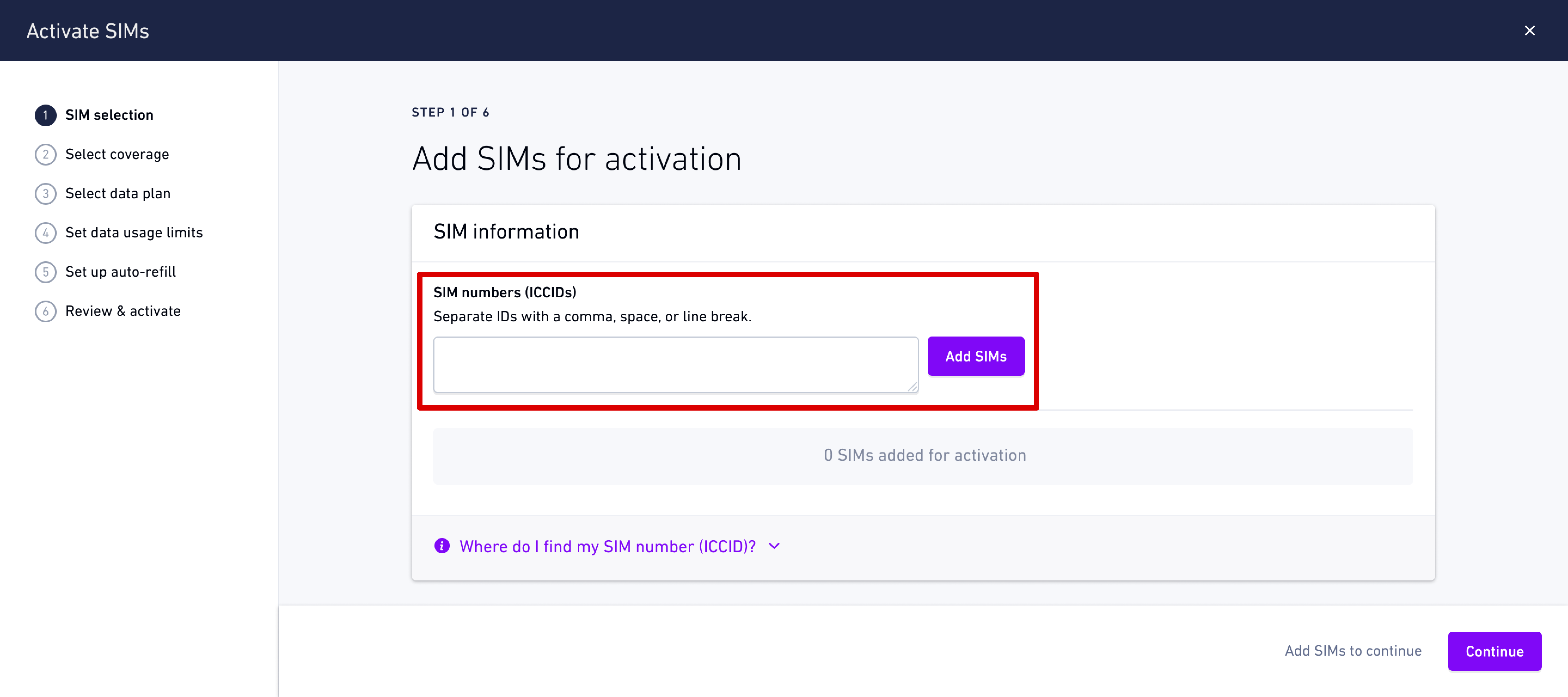 Once the ICCIDs are successfully verified, you will see the ICCIDs displayed under the input field in dark purple tags. If there is an error in verifying an ICCID, you will see a red or yellow notification with an error explanation.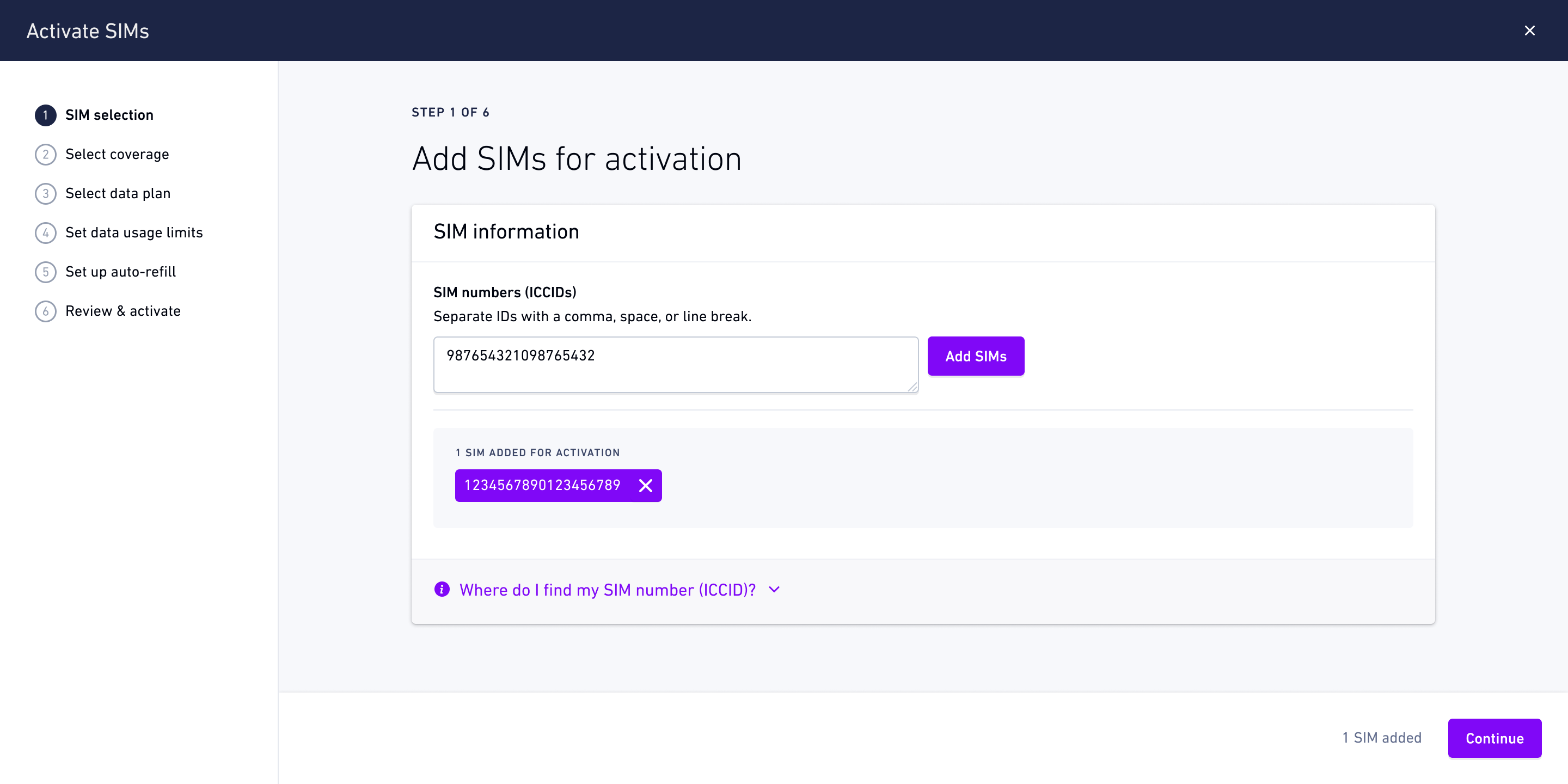 Select coverage
After entering the SIMs to activate, you can choose from data plans available to those SIMs. On the Select coverage step, choose from available coverage regions for your SIMs. This will filter down the data plans available for this data SIM.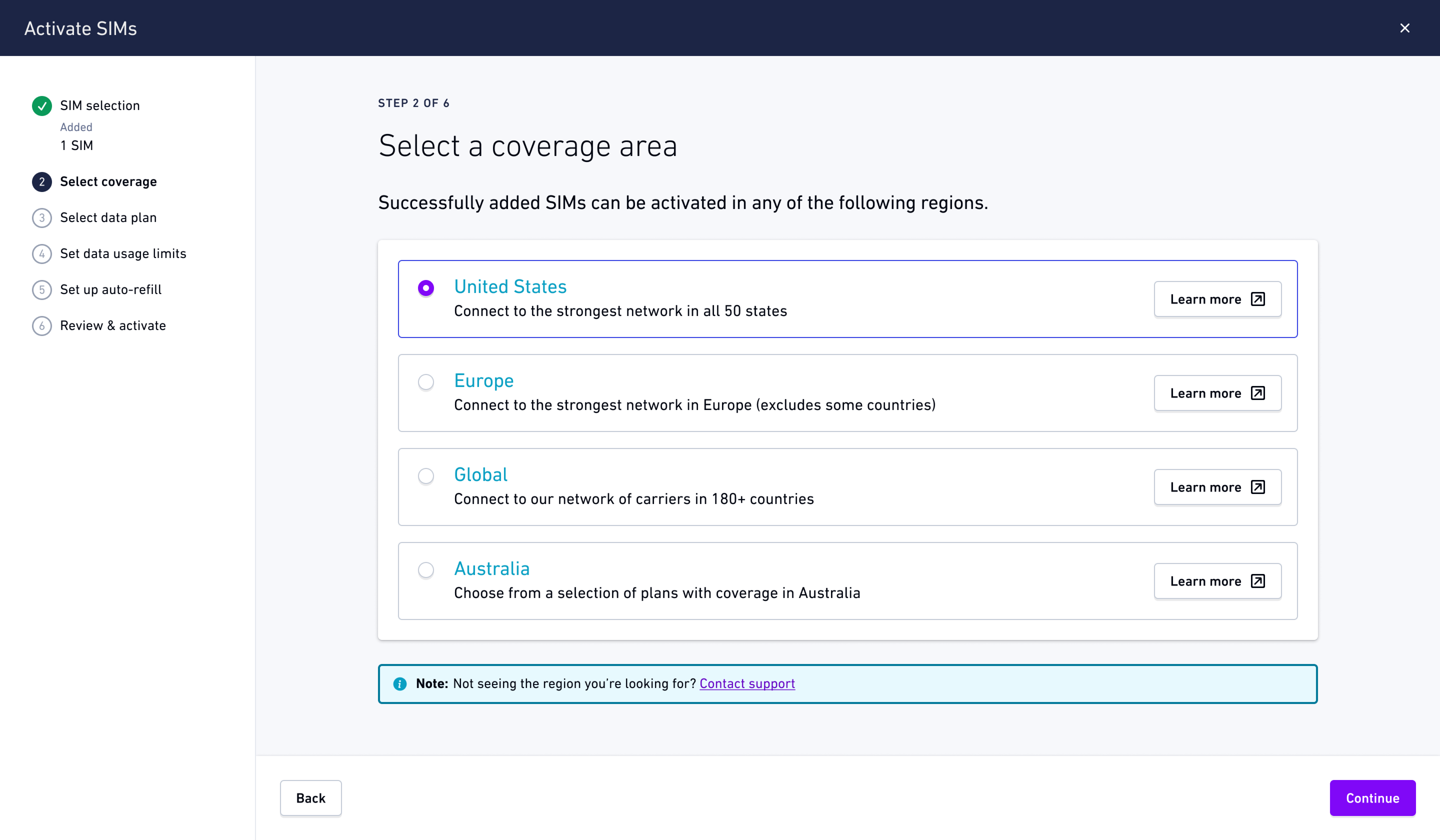 Note: If your organization has custom data plans available, you will only see a Select data plan step. Region selection is available under the Hologram data plans tab.

Select data plan
On the Select data plan step, you can choose between any available pay as you go and pay monthly data plans for your SIM(s).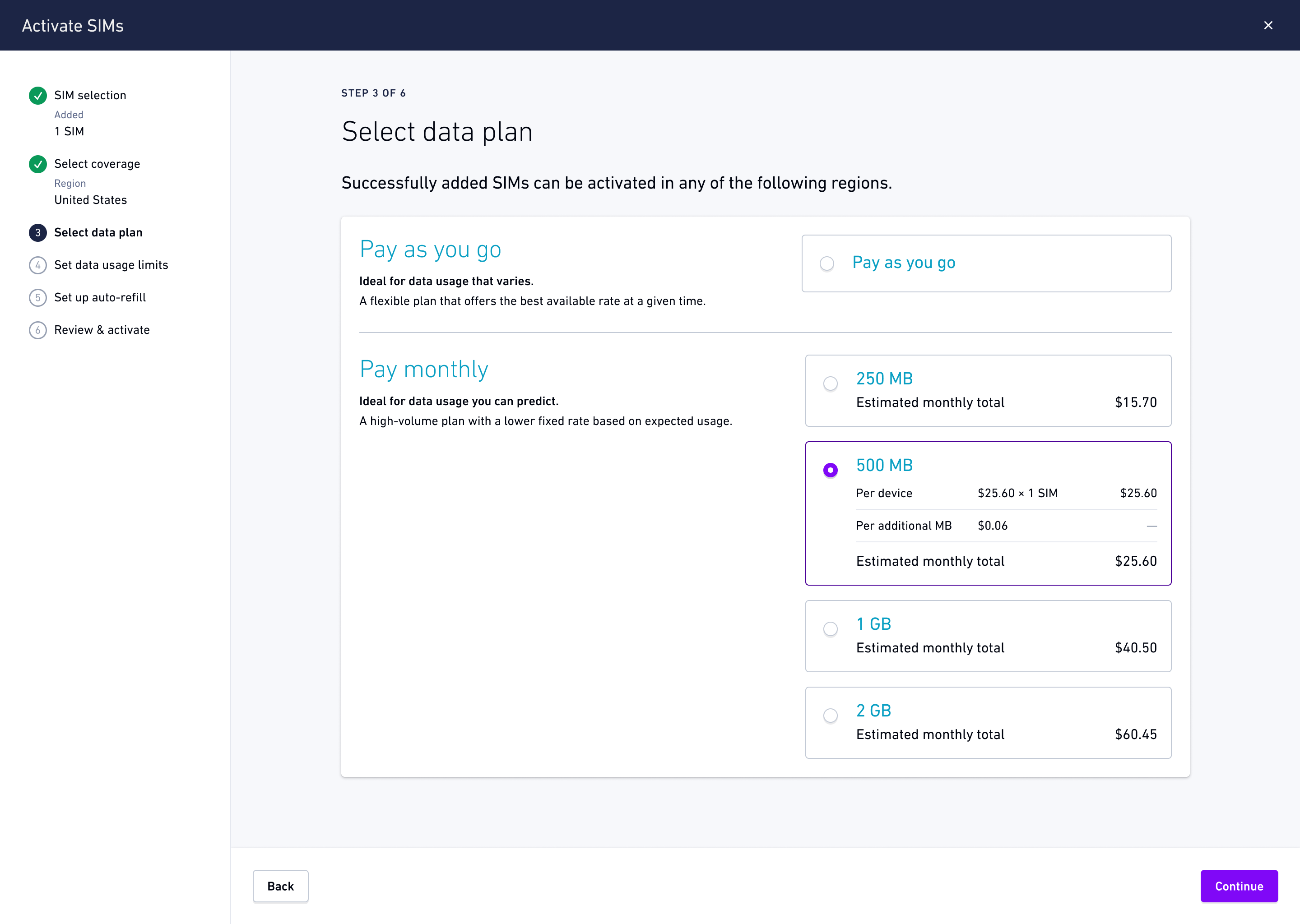 Setting data usage limits
Next, you have the option to set data usage limits for your devices. Setting a data usage limit allows Hologram to pause SIMs automatically if they hit the data usage limit you set to help avoid any overage charges. You may want to set a data limit if you don't want your SIM to use more data than is included in the data plan you have chosen. This step is optional.
If no data usage limit is set, devices will not be paused and usage will be charged at the overage rate depending on the data plan you have selected.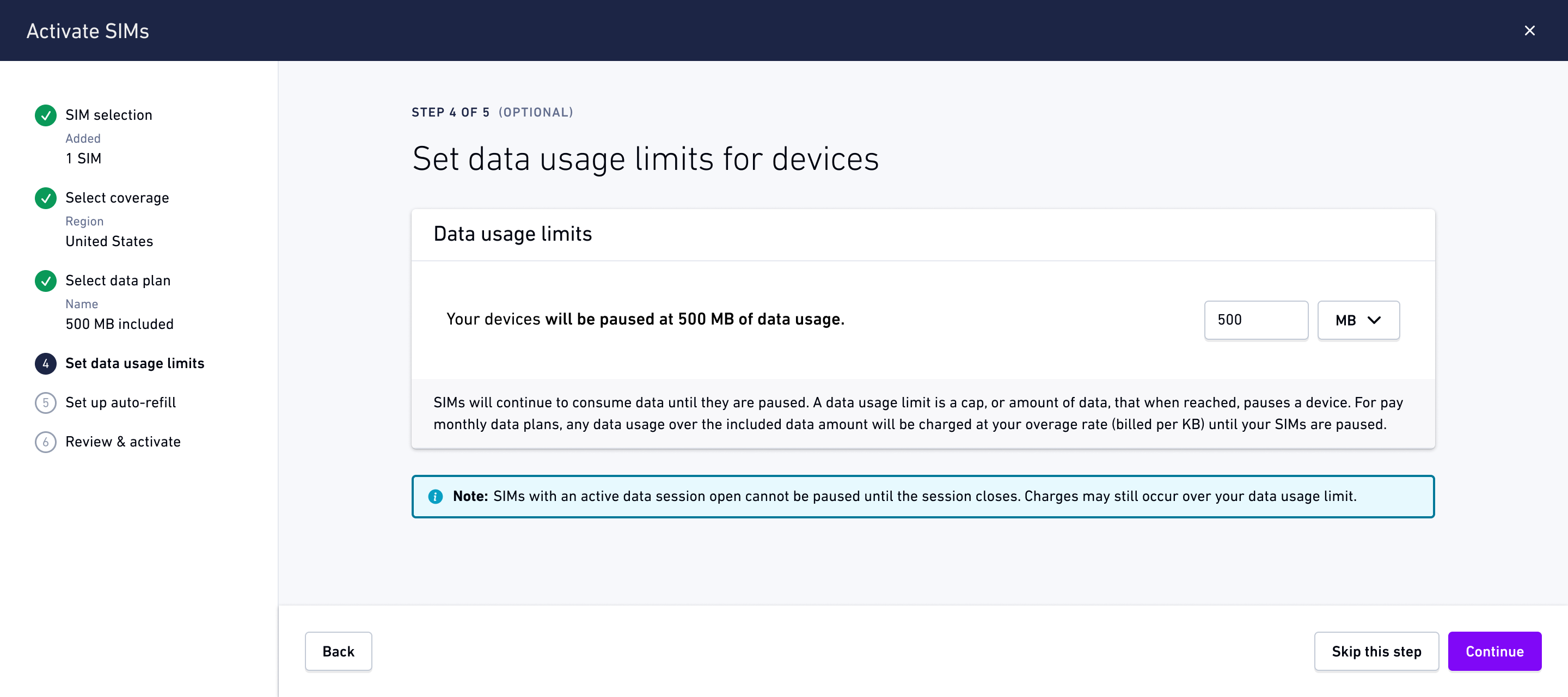 Auto-refill preferences
Depending on your account type, next you can set up auto-refill to ensure that your devices never go offline due to insufficient funds, and help you avoid any downtime. If you choose to enable auto-refill, you can set how much money to automatically add when your account balance drops below a certain amount.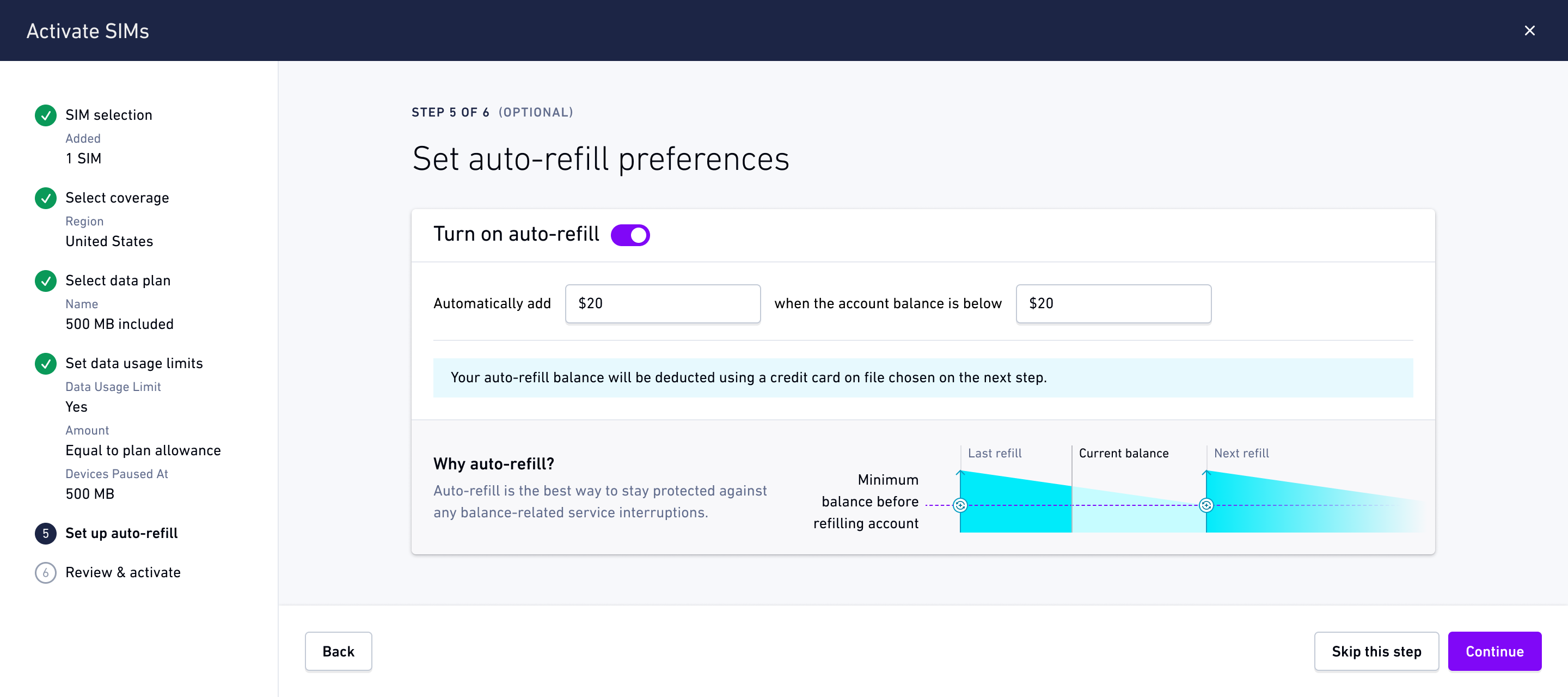 Review and activate
You're almost there!
In the final step, you have the chance to review all the selections you have made so far, confirm payment information and activate your device.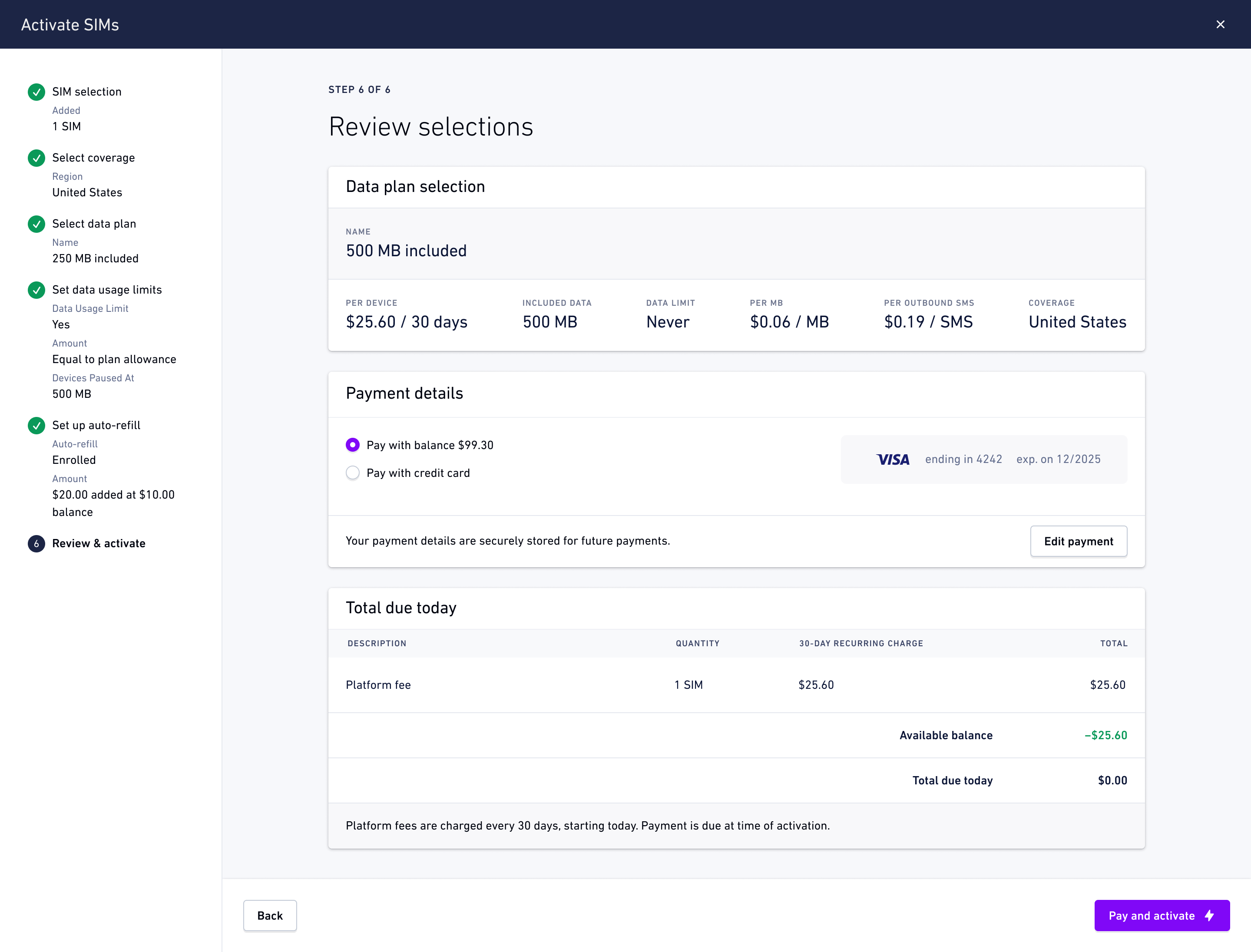 Once you click Pay and activate, you will see the final confirmation screen and a reminder to set the APN for your device, and you will be taken back to your dashboard.