Activating SIM cards is easy with Hologram. Whether you are activating one or one thousand devices, you can quickly bulk activate your SIM cards with our step-by-step guide in the Hologram Dashboard.
The ability to bulk activate up to ten thousand devices at a time is available to anyone who has already activated at least one device in their account. If you are a new user activating your first SIM card, please head over to this help article.
Bulk activating SIMs
From within the Devices tab in your dashboard, click Activate more SIMs button in the top right corner of the screen to start the bulk activation process.

After clicking this button, you will be taken to the start of a guided process that will step you through selecting a data plan for your new SIMs, setting data usage limit preferences, organizing your SIMs with tags name prefixes, setting payment preferences, and finally activating the SIMs.
Activating your SIMs
SIM selection
First, enter the ICCIDs — sometimes referred to as SIM numbers — of the SIMs you want to activate. You can add SIMs via manual individual entry, with a range, or by list upload using a CSV file. You will only be able to select one option for adding SIM ICCIDs. You can enter ICCIDs or EIDs when activating SIMs.
Enter SIMs individually by ICCID
Enter an ICCID by typing or copy/paste. You can add multiple ICCIDs separated by a comma, space, or line break.



Enter a range of SIMs
To choose a range of SIMs, enter the first and last ICCIDs in the range of SIMs to activate. You can find these ICCIDs printed on the box of SIMs you receive as the "ICCID Start" and "ICCID End".




Upload a CSV


You can add a list of SIMs by uploading a list of ICCIDs in a CSV file using the template linked on the page. Click the Download this template link to download the CSV template, or use the format shown below this step.


CSV template format
ICCID
YOUR_ICCID_1
YOUR_ICCID_2
YOUR_ICCID_3
Once the ICCIDs are successfully verified, you will see the ICCIDs displayed under the input field in dark purple tags. If there is an error in verifying an ICCID, you will see a red or yellow message box with an error explanation.
Select coverage
After entering the SIMs to activate, you can choose from data plans available to those SIMs. On the Select coverage step, choose from available coverage regions for your SIMs. This will filter down the data plans available for this data SIM.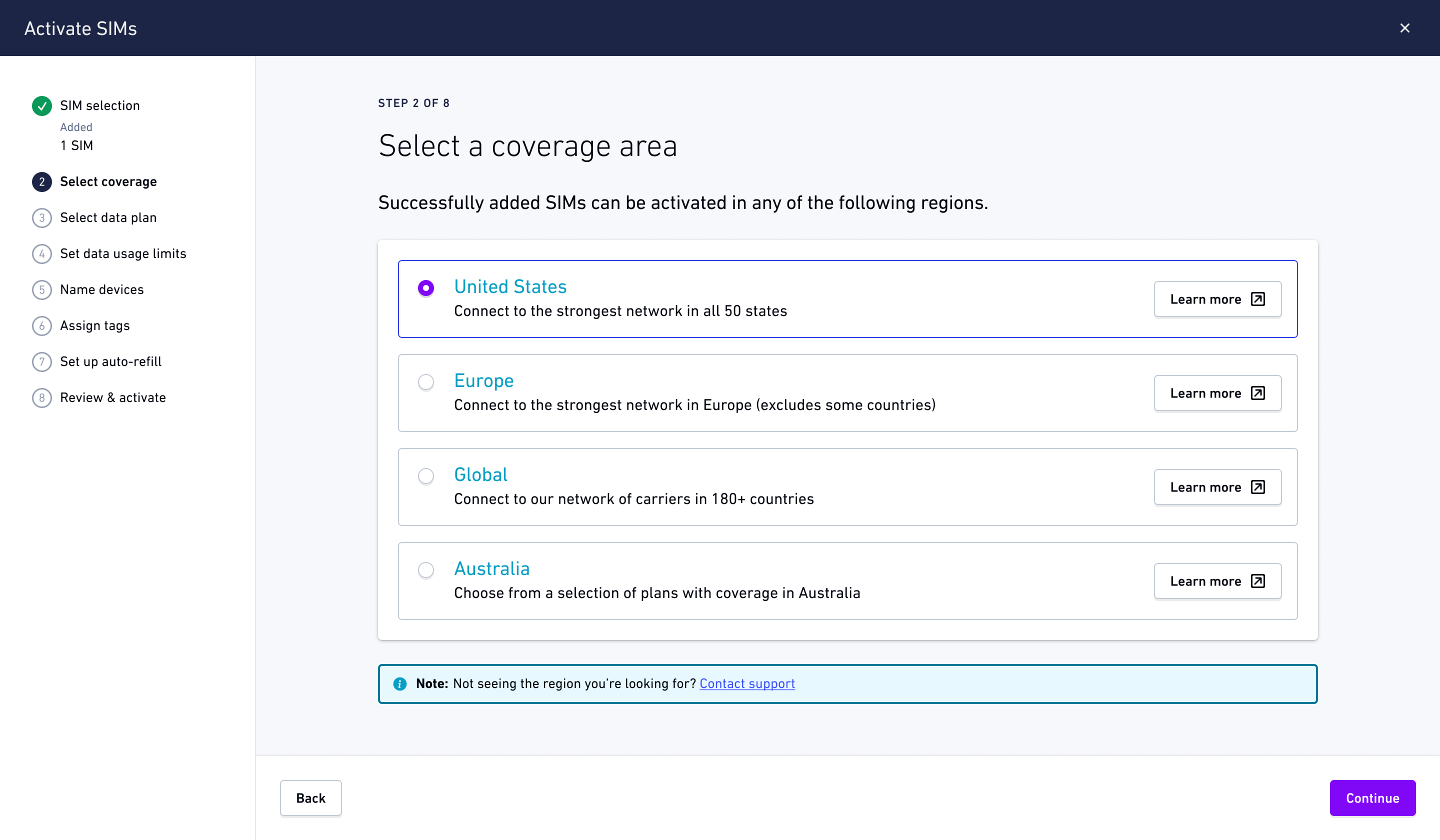 Note: If your organization has custom data plans available, you will only see a Select data plan step. Region selection is available under the Hologram data plans tab.
Data plan selection
After choosing a region, you can choose from data plans available to those SIMs. On the Select data plan step, choose from available coverage regions for your SIMs, then eligible pay as you go and pay monthly data plans for that SIM will be listed. If you have custom data plans, they will be displayed in a separate tab.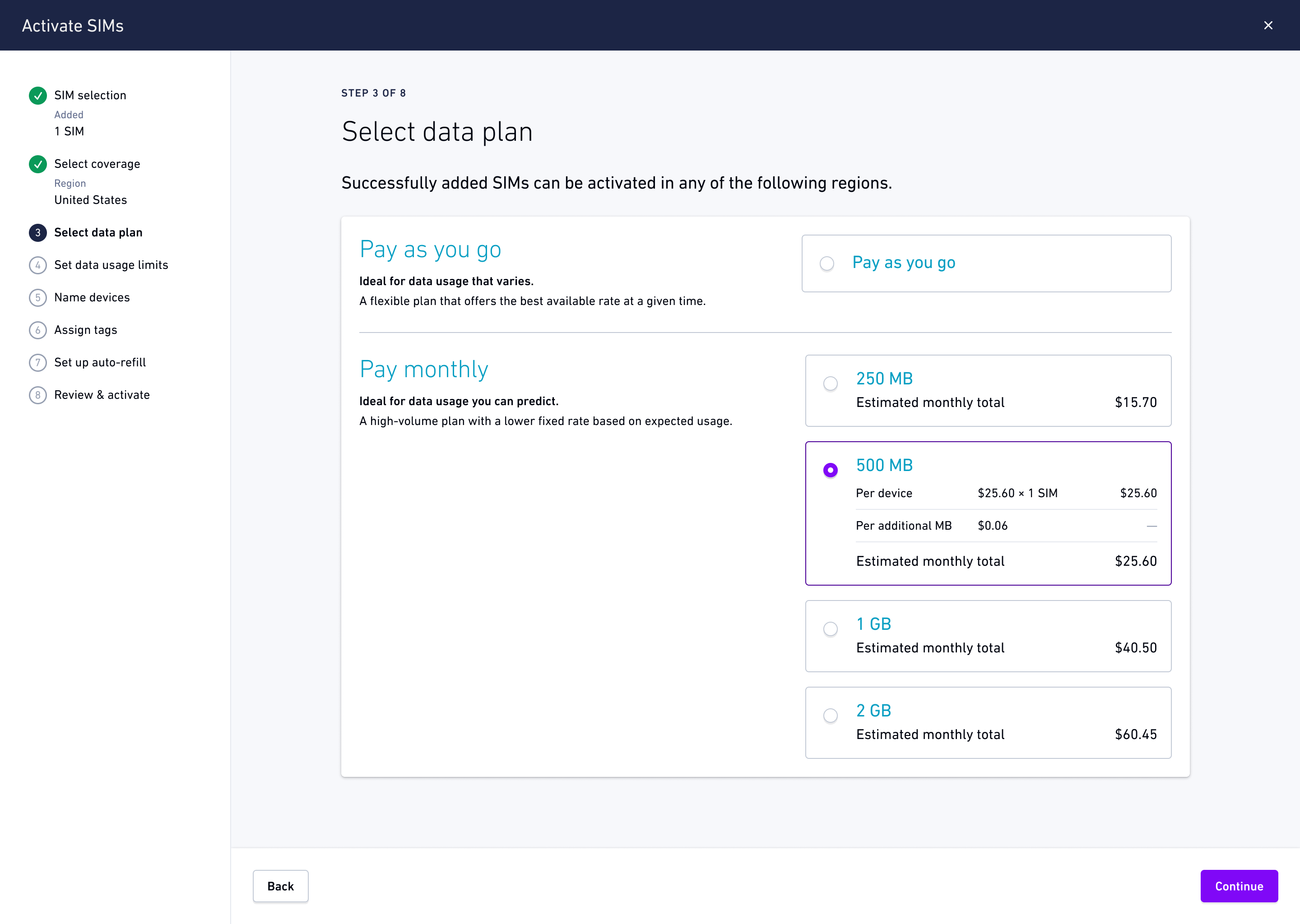 Setting data usage limits
Next, you have the option to set data usage limits for your devices. Setting a data usage limit allows Hologram to pause SIMs automatically if they hit the data usage limit you set to help avoid any overage charges. You may want to set a data limit if you don't want your SIM to use more data than is included in the data plan you have chosen. This step is optional.
If no data usage limit is set, devices will not be paused and usage will be charged at the overage rate depending on the data plan you have selected.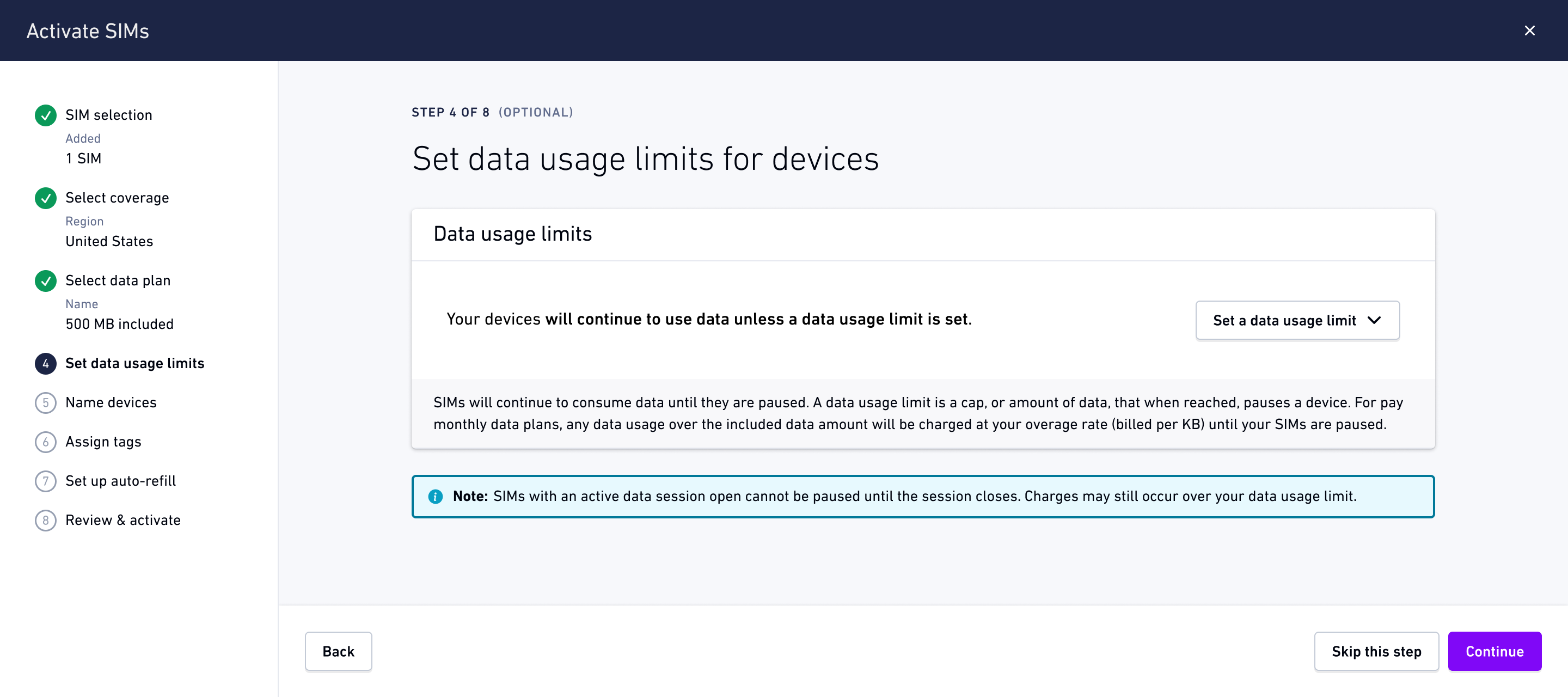 Set name prefixes and tags
In the next two steps, you can add a custom prefix to SIM names, or tag the SIMs you are activating to help you better manage and organize your fleet. These steps are optional.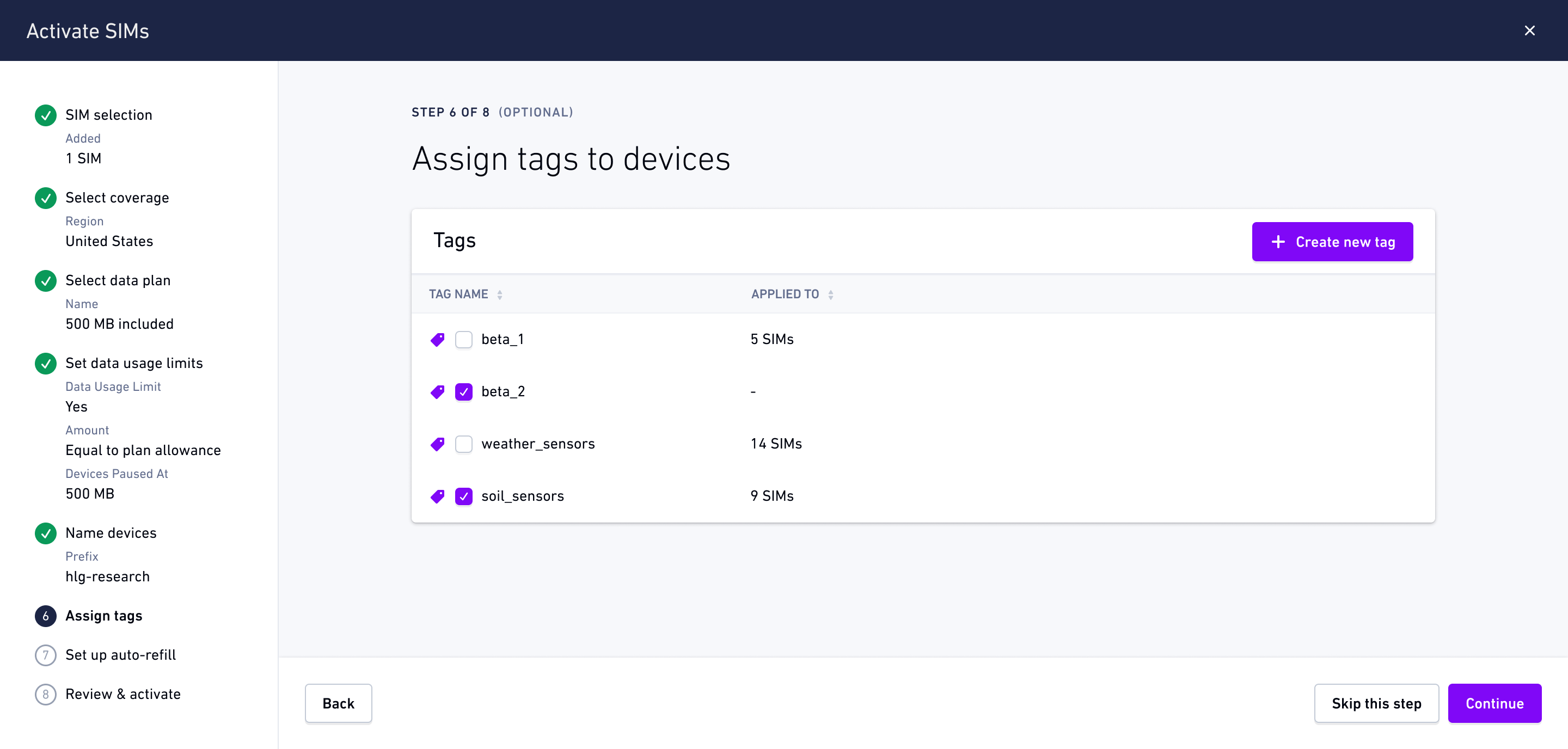 Auto-refill preferences
Depending on your account type, next you can set up auto-refill to ensure that your devices never go offline due to insufficient funds, and help you avoid any downtime. If you choose to enable auto-refill, you can set how much money to automatically add when your account balance drops below a certain amount.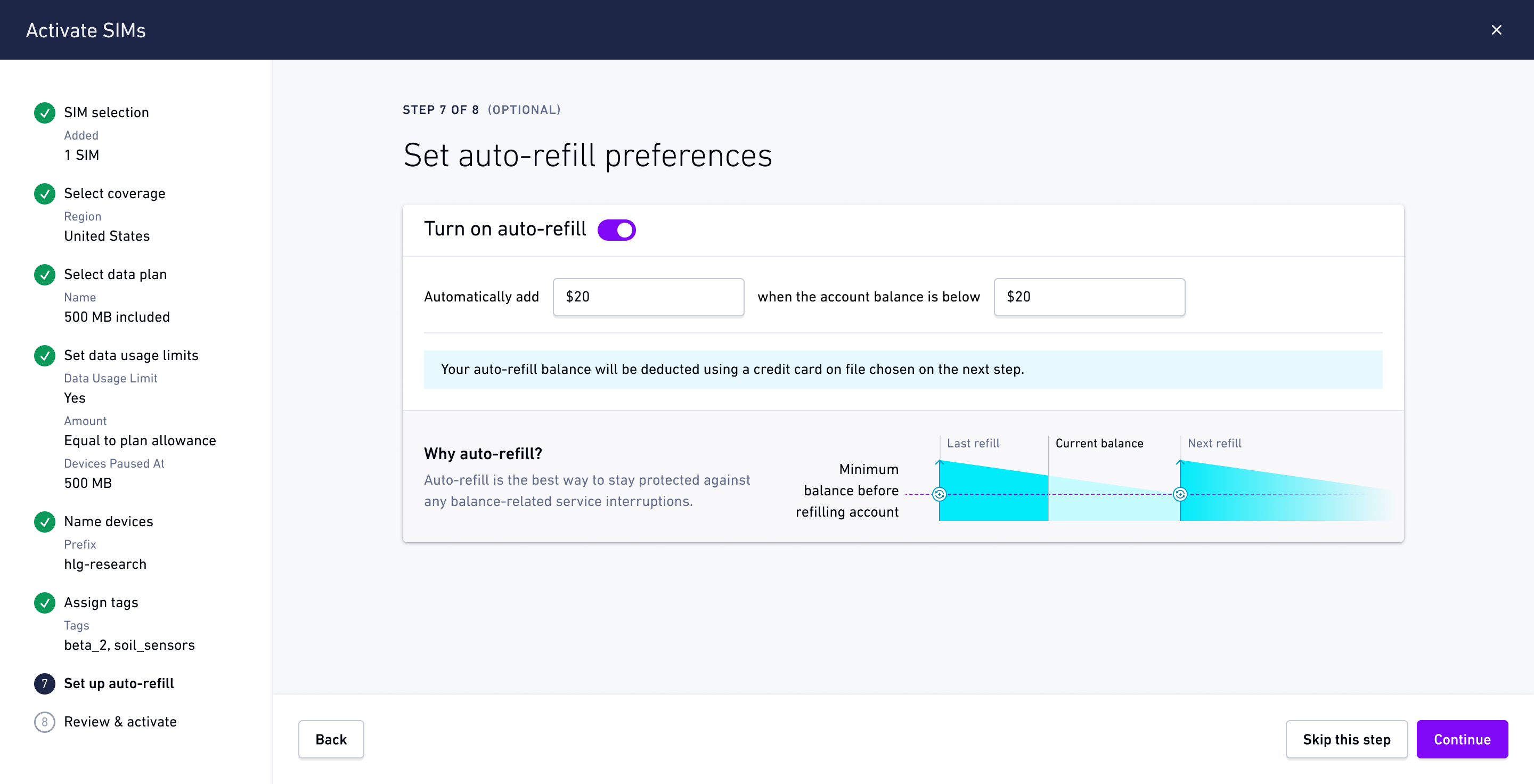 Review and activate
You're almost there!
In the final step, you have the chance to review all the selections you have made so far, confirm payment information and activate your device.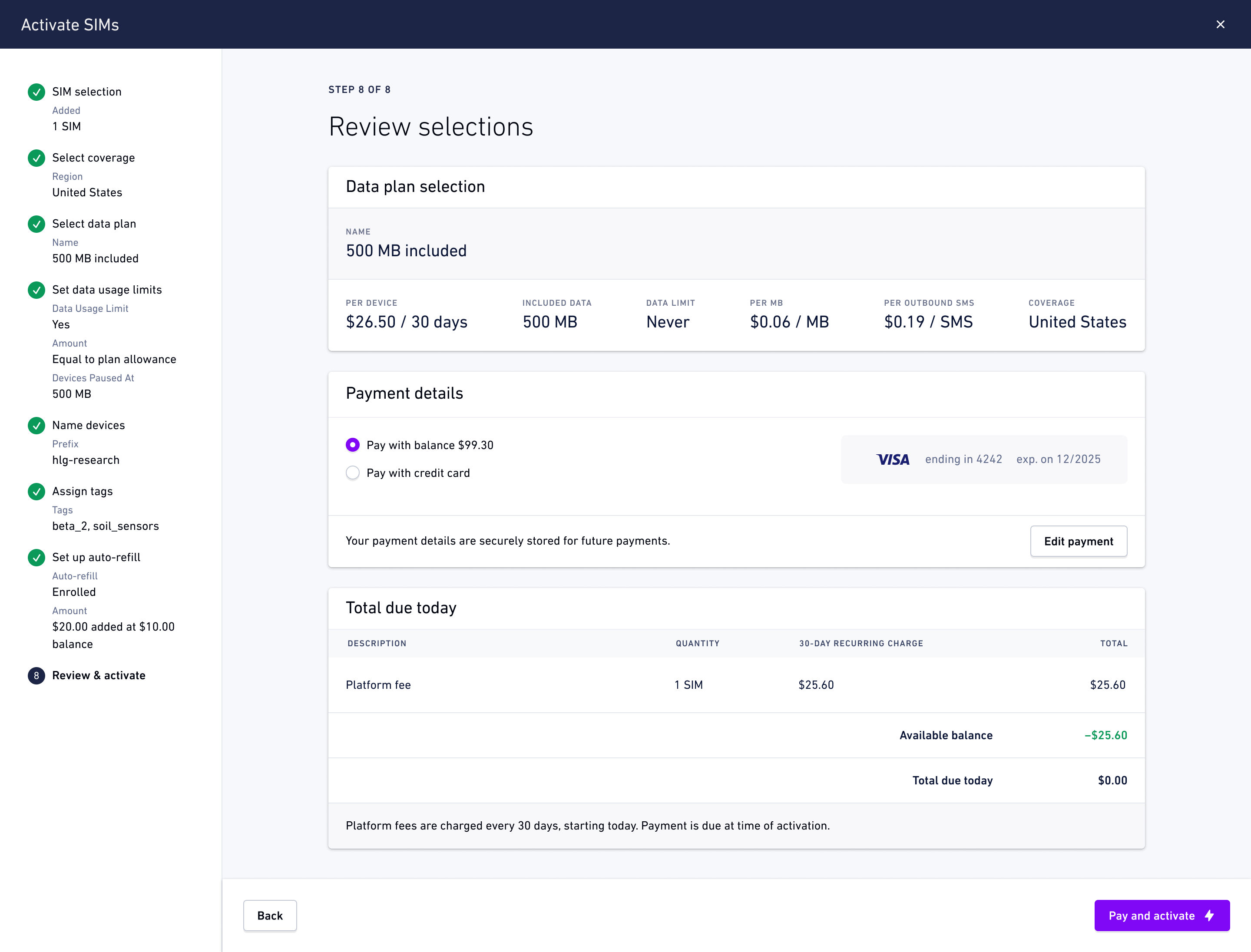 Once you click Pay and activate, you will see the final confirmation screen and you will be taken back to your dashboard.